Well hello everyone!
I am Victoria, I'm 21 years of age and well I am as outgoing as ever. I love all forms of art and well I am kinda new to some. I love trying new things out even if they don't tern out that great.
To Do List
themoon122.deviantart.com/jour…
To Do List:
Art Trade of Tar for

Amazing Groups!





Adopt's account (currently CLOSED)
Kinas-adopts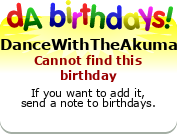 §♥§KJS§♥§



§♥§Im RL§♥§


§♥§Online friends§♥§




§♥§Inspiration's§♥§

























STAMPS EVERYWHERE!!!!!!!!!
:thumb66523006: